Scroll down for more information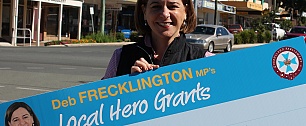 Now Open! Find out how you can apply for $250 for your community group or to help individuals attending major sporting/other events.
The Queensland Government is committed to supporting local community groups, individuals and projects through many different funding programs.
Learn more about Deb's work in Parliament, read her speeches and Questions on Notice
Meet the Qld LNP Team and read their Economic Plan for our great State.
KEEP OUR AG COLLEGES!
Remind Labor that practical agricultural education is important.